Fall is finally here and it's my favorite season of the year.  The colors, the cozy smells, corn mazes, Pumpkin Spice Lattes,  and my favorite: decorating!  Eeeek! It's just so much fun! This fall has been my favorite so far simply because I see the excitement in my toddlers eyes when we have FFA's (Fun Fall Adventures)!
Every year my best girlfriend and I get together for our annual "Fall It Up" gathering. In reality, it is just an excuse to hang out, drink wine, and decorate for fall. Wine makes decorating better!!  This year, due to crazy busy schedules with work and kids, we've had to postpone our Fall It Up tradition until closer to Halloween. Even still, I simply couldn't let September go by without orange leaves and pumpkins adorning the house… I just had to decorate!
I have been inspired this year by many fellow bloggers via their own Fall Home Tours. I admit, I am grossly behind on posting mine (can I blame my two small children for this?). Plus there were several little projects I wanted to finish first before I let you all peek into my home!  *Please bear with me as I am learn how to use my new camera for improved blog pictures.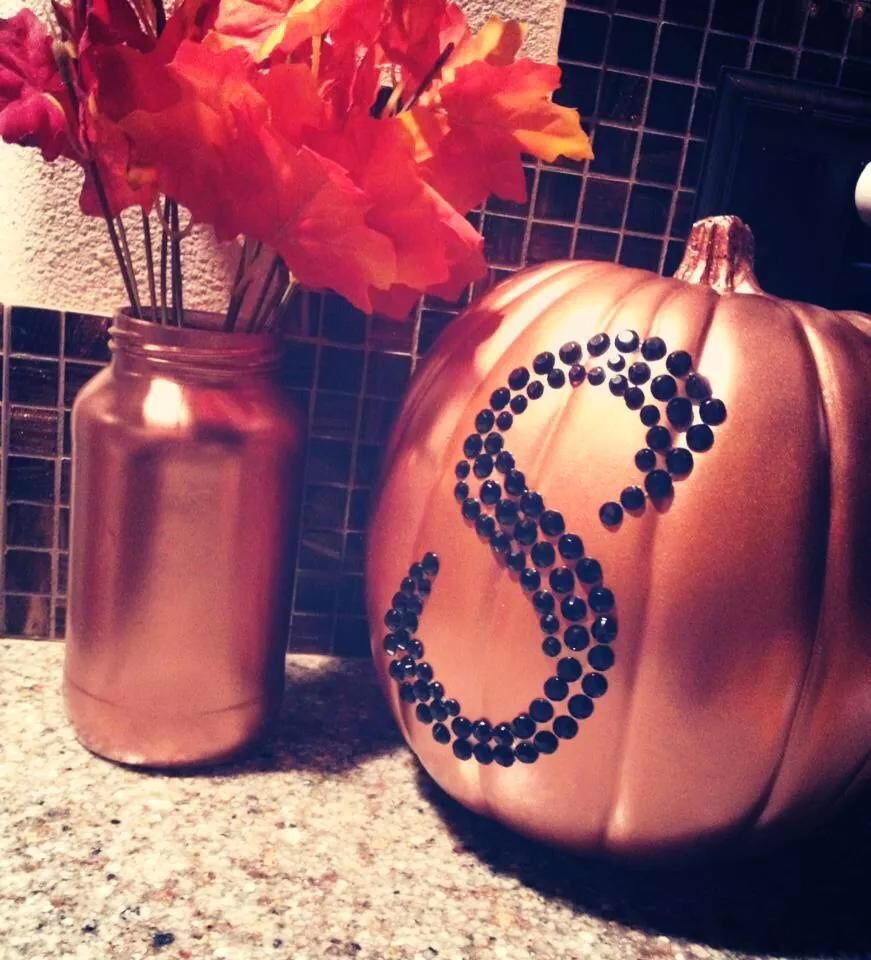 Copper, all about the copper!  Im obsessed with this pumpkin… copper + monogram + sparkle = one happy mamma!  But more on that later…
A few weeks ago I went to a girlfriends Dirty Thirty Surprise Birthday party, her friends and family had decorated the place straight out of a Pinterest board. It looked absolutly amazing!  Part of the decor were mason jars spray painted in copper and dipped in glitter used as vases.  Since that party, I have been completely obsessed with all things copper. I went to the craft store, bought a can of metallic copper spray paint and went to town on my old decorations that needed a face-lift!
I guess every good tour starts at the porch right?  I used to have a little welcome sign for the front door, until I stumbled upon Craftaholics Anonymous one day and decided a DIY fall wreath, adorned in copper of course, was needed.  I simply adore this simple DIY wreath, and it only cost $15. A far cry from the $60 many stores try to sell a monogramed wreath for!
I found a natural form wreath at the craft store and a 10″ wooden "S' (both for 50% off yay!),  dug into my flower stash and with the help of the trusty glue gun, got to work on the arrangement.  The entire wreath only took 30 minutes to make – the copper 'S' really adds the special touch for me. Can you tell by now I have a thing for the letter 'S'
I cannot wait for the mums to bloom – they will add so much color to the porch.  The red adirondack chair is from summer, but my 2 year-old still loves sitting in it in the afternoon  to watch the big kids get off the school bus – so cute!
When you first walk into the house you are greeted with an growing collection of children's toys, including play kitchen, play house and princess toys galore.  But never mind all that noise, we prefer to focus on the chaise lounge where Mr. August currently resides.  He really does make the best coffee and reading buddy don't you think? I have had Mr. August for over 7 years,  and as cheesy as many think he is, I just can't part with him. He makes fall that much more special, and my oldest daughter thinks he makes a great movie and reading buddy too!
Our  entryway also has a large mirror above the shoe bench, a vital necessity for every mom to make sure those flyways are tucked away before heading out the door!  I always like giving the mirror a little something for the season, and my daughter wanted to help.  My girlfriend told me about a cute felt banner craft she found at Target for only $5.  It was the perfect little afternoon craft to do with my toddler and she loves seeing her handy work every day on our way out! How cute is that little raccoon <3
Next on our stop is the family room where all the chaos happens!  We live in this room most days playing games, watching movies, puzzling, crafting and more… so it's essential that I have a pretty balance on the mantle above the fireplace to calm the noise!
Im am absolutely obsessed with my 'harvest blocks'!  They are re-used blocks from my Blocks That Say A Lot project I shared earlier this year. This set of seven blocks have made their round on the mantle this year… so many sayings to be made from them!  I like to change it up some days and switch them around to say "blessed', 'family' or 'faith' depending on my mood that day.  In October I can switch them around to say 'spooky' and 'monster'.  How fun is that!
See that Mason jar on the right – another copper creation thanks to metallic copper spray paint!
Like I said – obsessed! Check out my post about how to make your own set (17 words from just 7 blocks!)
We don't really have decor on our dining table – it is just to easy for our toddler to climb up and destroy (how I miss a table runner some days).  Instead I focus my energies on the buffet in the dining room.
I found the pumpkin candle holders at a garage sale years ago in perfect condition, they just needed a little dusting.  I love how they pair with the lit garland, allowing the glimmer and glow of orange to peek through!  And who doesn't love a little candy as decor!  I am not a fan of candy corn, not at all… It is probably my least favorite halloween treat which makes the perfect candy to use as decor because there is absolutely NO temptation there ha ha!
I have had this pumpkin/flower piece for years (possibly 8…!) and it needed a serious update from the faded orange it once was.  Yup, you guessed it… copper metallic spray paint to the rescue!  Oh shiny beautiful copper how I love thee…
A perk of marrying a Canadian is that you get to have Thanksgiving twice a year – hooray!!!  I added a touch of Thanksgiving (Canadian Thanksgiving is mid-October) in the guest bath downstairs with this sign I found at Home Goods.  See those maple leafs in there, that was on purpose of course
*Like wine? Like art with girlfriends? Then I recommend you go to a wine & painting night out in your area. It is so fun and you come home with a painting that, while not a Picasso, is pretty good for an amateur!
I do not do much decor in the kitchen because it is a high traffic area at all times.  But the top of my fridge gives me a great canvas for some pops of fall!  We know by now I am obsessed with copper this year and I am absolutely gaga over this copper monogram pumpkin!  I visited my friend at Dolen Diaries a few weeks back at her home and was so inspired by her golden pumpkins on her porch. Inspiration in mind I headed to Michael's and found fake pumpkins on sale at Michael's, spray painted it copper and attached a sparkly monogram over the top (also found on sale at Michael's). A ten minute craft – a season of admiration!
I hope you enjoyed the Fall Home Tour and got a few ideas of insertion for your home.  Happy Harvest ya'll!
Want more? Visit a few more home tours:
http://www.everydayenchanting.com/fall-home-tour-2014/
http://www.dolendiaries.com/2014/09/fall-home-tour.html
http://addicted2diy.com/2014/09/23/fall-home-tour-2014/
http://onekriegerchick.com/2014/09/24/fall-home-tour/